Viesnīca | Green Vilnius Hotel is established in 10-storey building with 126 stylish and modern rooms:
14 single rooms, 9 specially equiped for people with disabilities;
102 double rooms;
1 triple room;
9 quadruple rooms.
Over all hotel can accomodate 258 guests.
52 hotel rooms on the 7th-10th floors will be installed for longer accomodation. Each of these floors are equiped with a kitchen with apossibility of self catering, washing maschine, and clothes dryer. Each room has more capacious cupboards, work desks and refrigerators.
Hotel gives it's guest a unique opportunity to choose a room by the colour he or she wants. Guest can book green, red, blue or orange room.
Green Vilnius Hotel is specially equiped for people with disabilities: well appointed entrance to the hotel, all necessary equipment in the bath rooms. For the allergic people we have specially adapted floor cover and for the tall people beds are made 220 cm longer.
In each room for the guests needs there is a shower, wc, LCD TV showing local and foreign channels, wireless high-speed internet and opaque curtains to black out.
In the rooms and in the whole hotel wireless high-speed internet is available.
Children under age of 12 years can live with their parent or attendant adults at no extra charge.
Der zināt
Ierakstīšanās (agrākais)

Izrakstīšanās (vēlākais)
Kontaktinformācija
Kontaktpersonas e-pasts

Mājaslapa
Salīdzini "Green Vilnius Hotel" ar līdzīgām alternatīvām
Šī nelielā, mājīgā 4 zvaigžņu viesnīca Ratonda Centrum Hotels atrodas Viļņas centrā un ir lieliski piemērota darījumu ļaudīm vai tūristiem.
The 3-star Grata Hotel is located in central Vilnius, a 15-minute walk of the historic Old Town. It features an indoor pool, a sauna and rooms with free internet. All rooms at the Grata Hotel are classically furnished and decorated with warm tones. Each comes with tea and coffee-making facilities, a refrigerator and a work desk.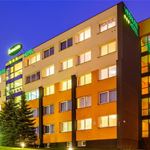 Viesnīca Zemaites atrodas 15 minūšu ilga brauciena ar autobusu attālumā no Viļņas vecpilsētas. Viesnīcā tiek piedāvāti vienkārši numuri ar gaisa kondicionētāju, kabeļtelevīziju, ledusskapi, privātu vannas istabu un bezmaksas bezvadu interneta pieslēgumu. Viesiem ir pieejama bezmaksas privātā autostāvvieta automašīnām un autobusiem.