Гостиница | Amberton Cozy Is located directly on Kaunas's Old Town, only 150 metres from the city's historic Town Hall. It offers air-conditioned rooms with cable TV, a minibar and free Wi-Fi.
The rooms of the Amberton Cozy are spacious and elegantly decorated. All feature a work desk, private bathroom with a hairdryer and electrical kettle for the guests convenience. Each room is soundproofed.

The hotel is only 100 metres from Kaunas Cathedral. The House of Perkunas is within 190 metres. There are various shops, restaurants and pubs in the area.

Private parking is available on-site, the fee applies. The Amberton can organise an airport shuttle. Its restaurant serves dishes. It is possible to use the services of the Beauty salon and the hairdresser that are located in the hotel.
Оборудование и услуги
Ёмкость

Количество этажей: 4

28 номера(-ов)

Конференц-залы: 0

Built in year 1951

Last renovated year 2007
Контактная информация
Phone number (booking)

Website
Сравнить «Amberton Cozy Hotel» с похожими альтернативами
"KAUNAS CITY" – is a tourist class 2 star hotel, located in Laisves avenue, in the very center of Kaunas city.
The Hotel Kaunas is not only a new and modern Hotel but it also has a convenient location and excellent staff. It is situated in the city's downtown - Laisvės avenue. Its location is ideal for those who come to Kaunas on business or for pleasure since its area is surrounded by cultural, commercial and financial objects and it takes just several minutes to reach the old town.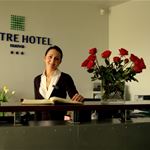 CENTRE HOTEL — это новая трехзвездочная гостиница в самом сердце Каунаса. Она расположена в тихом районе на склоне Жалякальниса (Зеленого Холма), совсем рядом с главной артерией города — проспектом Саванорю.