Гостиница | "KAUNAS CITY" – is a tourist class 2 star hotel, located in Laisves avenue, in the very center of Kaunas city.
The hotel offers 44 large rooms, wireless Internet connection, 24 hour reception, elevator, taxi services and other facilities. The newest technologies were used in designing the building; historical building of province governorates merges into a two-storied superstructure with glass showcases allowing for the guests to overview the famous sight of the city – Laisves avenue – from their rooms.
"KAUNAS CITY" is situated in a good location and city sights are within walking distance of several minutes. Old town, architectural monuments, theaters, museums, casinos, bars, restaurants and a number of other attractions are there to make your visit memorable.
Оборудование и услуги
Ёмкость

Количество этажей: 4

44 номера(-ов)

95 кровати(-ей)

Парковка

Общественная парковка поблизости

Особые требования

Оборудование для инвалидов

Комнаты для курящих

Возможности транспорта
Полезно знать
Заезд (самый ранний)

Выезд (последний)
Сравнить «Kaunas City Hotel» с похожими альтернативами
The Hotel Kaunas is not only a new and modern Hotel but it also has a convenient location and excellent staff. It is situated in the city's downtown - Laisvės avenue. Its location is ideal for those who come to Kaunas on business or for pleasure since its area is surrounded by cultural, commercial and financial objects and it takes just several minutes to reach the old town.
This Park Inn is located in Kaunas, 300 metres from Laisvės alėja. It offers spacious, air-conditioned rooms with a flat-screen with satellite channels and free Wi-Fi. Free private parking is available.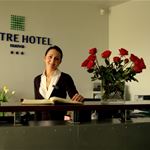 CENTRE HOTEL — это новая трехзвездочная гостиница в самом сердце Каунаса. Она расположена в тихом районе на склоне Жалякальниса (Зеленого Холма), совсем рядом с главной артерией города — проспектом Саванорю.