Гостиница | This Park Inn is located in Kaunas, 300 metres from Laisvės alėja. It offers spacious, air-conditioned rooms with a flat-screen with satellite channels and free Wi-Fi. Free private parking is available.
The rooms of the Park Inn Kaunas feature a classic interior design with Scandinavian influences. All include a safe, work desk and minibar. The private bathrooms have a shower and a hairdryer.

The hotel has a casino onsite as well as a spa and wellness centre with a solarium, sauna and Turkish bath, which is available for an additional surcharge. Guests can also work out in the fitness centre or visit the massage parlour.

The Diverso restaurant serves Mediterranean dishes. In the morning it offers a breakfast buffet. The Ginger Bar serves light snacks and beverages.

Thanks to its central location many of Kaunas's landmarks are within walking distance. St. Michael the Archangel Church is within 250 metres. The Devil's Museum is within a 10 minute walk. The Old Town is 1.2 km away.
Оборудование и услуги
Ёмкость

Количество этажей: 8

206 номера(-ов)

Конференц-залы: 8

AttributeSection.GroupTitle.Theme

Общие удобства

Built in year 1987

Last renovated year 2008

Питание и напитки на месте

Возможности транспорта
Полезно знать
Check in (earliest)

Check out (latest)

Opening hours
Контактная информация
Phone number (booking)

Website
Сравнить «Park Inn Kaunas» с похожими альтернативами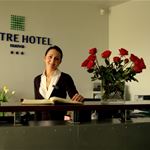 CENTRE HOTEL — это новая трехзвездочная гостиница в самом сердце Каунаса. Она расположена в тихом районе на склоне Жалякальниса (Зеленого Холма), совсем рядом с главной артерией города — проспектом Саванорю.
НОВАЯ 4-звездочная гостиница EUROPA ROYALE KAUNAS расположена в очень удобном месте - в самом центре Каунаса, в окружении наиболее гостями города посещаемых мест, вблизи основных центров бизнеса, торговли, отдыха и развлечений.
The Hotel Kaunas is not only a new and modern Hotel but it also has a convenient location and excellent staff. It is situated in the city's downtown - Laisvės avenue. Its location is ideal for those who come to Kaunas on business or for pleasure since its area is surrounded by cultural, commercial and financial objects and it takes just several minutes to reach the old town.