Tour to Jurmala
Adrese: Jurmala
Datums: Otrdiena 22 mai 2018 - pirmdiena 31 dec 2018
Rādīt karti
Adrese: Jurmala

Optional Tour to Jurmala (duration: 3 hours including transfers & shopping)
Jurmala, a resort town possessing 150-year-old resort traditions, occupies approximately one-tenth part of the coastal line. Jurmala is the place for a city dweller tired of life to reacquire the feeling of being the Nature's child. Here fresh sea wind will fill people's lungs and make them dizzy with the smell of pines, the eyes will rest in the blue of the sea, the feet will sink in the soft golden sand…Now, after the 50-year-long isolation again various generations from various countries may enjoy the special gentle charm, curative waters and mud baths of Jurmala… Jurmala with its romantic wooden houses in art nouveau (Jugendstil), its spacious beaches, forests, and calmly flowing Lielupe river is especially attractive in the modern world of standards, for it has not lost its singularity.
Show more
Rezervēt tagad - izvēlieties sākuma datumu un produktu
Viesnīca
Attālums: 11,5 km
Modernā un elegantā dizaina viesnīca ir atvērta 2008.gada vasarā un atrodas netālu no pludmales, upes un Jūrmalas centra.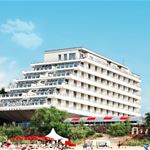 Viesnīca
Attālums: 11,4 km
Nestled directly on the shore of the Baltic Sea, the 5-star Baltic Beach Hotel & SPA has a unique location in Jurmala amidst the dunes and lushly pine-trees. Offering direct access to the fully equipped private beach with catering service, it is ideally located in the heart of Jurmala within walking distance to main cultural and recreational institutions, railway station, restaurants, shops and other attractions.
Viesnīca
Attālums: 11,7 km
4 zvaigžņu viesnīca Jūrmala SPA hotel ir mūsdienīgs spa kūrorts un konferenču centrs, kas atrodas tikai īsas pastaigas attālumā no pludmales. Piedāvā bezmaksas bezvadu internetu koplietošanas telpās un bezmaksas autostāvvietu. Viesnīcas SPA un veselības centrs izvietots vairāk nekā 2 stāvos un piedāvā dažāda veida masāžas un ūdens terapiju. Spa zonā atrodas vairāki baseini ar dažādām temperatūrām, burbuļvannas, 5 dažādas saunas, solārijs un bārs.