Hotel Vantis
Adrese
: Balasta dambis 78, LV-1048 Riga (
rādīt karti
)
Atrašanās vieta: Rīga
Viesnīca | Viesnīca Vantis ir ideāla vieta mierīgai atpūtai, romantiskām nedēļas nogalēm, atpūtai ar ģimeni vai konferenču un banketu organizēšanai. Viesnīca atrodas Pārdaugavā - Ķīpsalā pašā Daugavas krastā ar lielisku skatu uz apgaismotiem tiltiem un Vecrīgu, ka arī viesnīcas dārzu un Rīgas ostas industriālo teritoriju. Ekskluzīva iespēja piekļūt viesnīcai ar personīgo jahtu, kuteri vai laivu. Viesnīcas teritorijā tiek piedāvāta bezmaksas apsargājamа virszemes, ka arī pazemes autostāvvieta.
Viesu atpūtai viesnīca piedāvā 12 labiekārtotus divvietīgus numurus. Numuri ir iekārtoti atbilstoši mūsdienu prasībām un ieturēti skandināvu stilā. Viesnīca "HOTEL VANTIS" piedāvā konferenču zāli, kas būtu piemērota semināriem, nelielām konferencēm un banketiem apmēram 40-50 dalībniekiem.
Kontaktinformācija
Tālruņa numurs (rezervācijām)
Salīdzini "Hotel Vantis" ar līdzīgām alternatīvām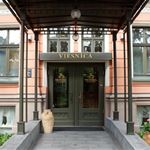 Viesnīca Monika Centrum Hotels atrodas prestižākajā Rīgas rajonā, kur pilsētas centrs apbur Jūs ar saviem parkiem un slavenajām jūgendstila ēkām. Klasiska elegance, mājīgums un viesmīlība ir tas, kas raksturo "Centrum Hotels" visjaunāko viesnīcu. Šeit jūs vienmēr jutīsieties kā mājās. Vēsturiskās ēkas neatkārtojamā burvība, izmeklētais interjers, izsmalcinātā toņu gamma un personāla uzmanība radīs brīnišķīgu atmosfēru, kas ļaus Jums atgūt spēkus
Četrzvaigžņu viesnīca PK Riga atrodas Rīgas jūgendstila rajonā, 10 minūšu pastaigas attālumā no vēsturiskās Vecrīgas. Uz vietas viesiem ir pieejams spa centrs, kā arī numuri ar klasisku interjeru un bezmaksas bezvadu interneta pieslēgumu.
Built in 2016, Park Inn by Radisson Riga Valdemara invites its guests to stay on the western side of Daugava River with good connections to the Old Town, Riga International Airport and main sights. Guests can enjoy a meal at the onsite restaurant, enjoy views from terrace and exercise in the fitness centre.