Uniqstay City
Adrese
: Paldiski mnt. 3, 10137 Tallinn (
rādīt karti
)
Atrašanās vieta: Tallina
Viesnīca | Uniquestay City Hotel ir svaiga jaunas koncepcijas viesnīca, kas piedāvā izmitināšanu par ievērojami zemāku cenu, nekā vispārējais cenu līmenis- pēc būtības Jums nav jāmaksā par pakalpojumiem, kuri Jums nav nepieciešami! Viesnīca atrodas 5 minūšu gājiena attālumā no Tallinas vecpilsētas. Tajā ir 17 istabas un visā viesnīcā tiek nodrošināts bezmaksas bezvadu internets.
Iestādes un pakalpojumi
Ietilpība

Stāvu skaits: 3

17 istaba (-s)
Der zināt
Ierakstīšanās (agrākais)

Izrakstīšanās (vēlākais)

Darba laiks
Kontaktinformācija
Tālruņa numurs (rezervācijām)

Mājaslapa
Salīdzini "Uniqstay City" ar līdzīgām alternatīvām
Recently renovated 3* category hotel next to Tallinn's Old Town and the historic railway station Baltic Station. Popular Telliskivi area in Kalamaja district is only about 400m away. There you can find numerous popular restaurants and venues to visit. For hotel guests FREE parking and WIFI.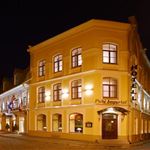 Hotel Imperial offers 32 comfortable and well-designed rooms.All rooms provide Internet access.We have a choice of various rooms:10 single rooms, 18 double rooms, junior suite, 2 de luxe rooms with kitchenette and 1 suite with sauna and Jacuzzi.The choice includes also special rooms for our disabled guests and guests suffering from allergies.All rooms are equipped with SAT-TV,direct dial telephone,free Internet access,hairdryer,minibar.
St. Olav viesnīca savas durvis vēra salīdzinoši nesen un tā savu nosaukumu ieguva par godu norvēģu karalim St. Olaf Haroldson. Viesnīca ir iekārtota ēkā, kas ir saglabājusies no 15. gs. un ir cieši saistīta ar leģendām. Koka kāpnes, dabīgais akmens, tekstils, izstrādātas detaļas un fragmenti rada unikālu viduslaiku pasakas atmosfēru. Viesnīcas atrašanās vieta arī ir unikāla- trīs minūšu gājiena attālumā no rātslaukuma, plašākajā un klusākajā vecpilsētas ielā. Viesnīcas 4 stāvos ir 90 skaisti iekārtotas istabas, ieskaitot Deluxe Suite un Junior Suite ar saunu. Istabu interjerā ir izmantoti tikai dabiski un ekoloģiski tīri materiāli. Standarta istabās interjerā ir izmantotas pseido- gotiska koka un akmens detaļas, rakstains tekstils, kalti ornamenti; grīdas segums ir dabīgais korķis.