Hotel Parnu
Adrese
: Rüütli 44, 80010 Parnu (
rādīt karti
)
Atrašanās vieta: Pērnava
Viesnīca | Pēc nogurdinoša ceļojuma vai saspringtas darba dienas vienmēr ir patīkami ierasties tur, kur patiešām tiekat gaidīti. Ja, ienākot pa durvīm, Jūs sagaida ar laipnu smaidu un mājīga atmosfēra, kas vilina uzkavēties ilgāk, tad Jūs esat nonākuši Hotell Pärnu!
Pērnavā eksotisku restorānu, mājīgu kafejnīcu, veikalu, baseinu, ūdens procedūru un citu veselības uzlabošanas centru ir vairāk nekā Jūs varat iedomāties. Tikai Pērnavā Jūs varat baudīt aizraujošas teātra izrādes, klausīties savai gaumei atbilstošus koncertus, apmeklēt interesantas izstādes un festivālus. Protams, nevar nepieminēt Pērnavas pludmali un vecpilsētu, kas vienaldzīgu neatstāj nevienu ciemiņu un liek ilgpilni nopūsties katram Pērnavas iedzīvotājam, kas atrodas svešumā. Ja būsiet izvēlējušies Hotell Pärnu, atradīsities šo notikumu degpunktā.
Iestādes un pakalpojumi
Ietilpība

Stāvu skaits: 7

80 istaba (-s)

Konfarenču telpas: 4

Pamataprīkojums

Sauna

Velosipēdu noma

Sporta zāle

Frizētava

Burbuļvanna

Masāža

Skaistumkopšanas salons

Ēst un dzert uz vietas.

Autostāvvieta

Autobusu stāvvieta

Autostāvvieta

Viesnīcas autostāvvieta

Maksas autostāvvieta

Īpašas vēlmes

Allergy adjusted

Bērniem draudzīga

Physically disabled facilities

Atļauti mājdzīvnieki

Smēķētāju istabas

Transport Possibilities
Kontaktinformācija
Tālruņa numurs (rezervācijām)

Mājaslapa
Salīdzini "Hotel Parnu" ar līdzīgām alternatīvām
Koidulapark Hotel is in the former fortification area of the historical centre of Pärnu. The ancient fortifications were liquidated at the end of the 19th century and the territory was divided into plots.
Hotel Hansalinn is most conveniently situated in the heart of Pärnu and all the most interesting and evocative city sights are within a short walking distance.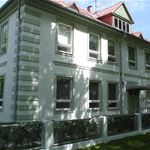 Ribere Apartment is located in the centre of Pärnu, 800 m from the Pärnu Bay beach. It offers self-catering accommodation with a fireplace and free Wi-Fi