Hotel Europa City Vilnius
Adrese
: Jasinskio 14, LT-01013 Vilnius (
rādīt karti
)
Atrašanās vieta: Viļņa
Viesnīca | Šī modernā 3 zvaigžņu viesnīca atrodas Viļņas centrā, īsa gājiena attālumā no vecpilsētas. Tā piedāvā bezmaksas autostāvvietu un bezmaksas bezvadu interneta pieslēgumu koplietošanas telpās.

Viesnīca Europa City Vilnius piedāvā standarta un "suite" kategorijas numurus ar dažādām ērtībām, tostarp gaisa kondicionieri. Gultu garumu var palielināt līdz 2,3 metriem.
Restorāns Perfect pusdienās un vakariņās piedāvā baudīt starptautiskās virtuves un tradicionālās lietuviešu virtuves ēdienus. Restorānā tiek pasniegtas bufetes tipa brokastis. Bārs ir atvērts katru dienu līdz pusnaktij.

Viesnīca Europa City Vilnius piedāvā arī saunu, trenažieru zāli, biznesa centru un apsargājamu autostāvvietu.

Gedimina bulvāris, Viļņas galvenā iela, atrodas 200 metru attālumā. Šī iela ved līdz katedrālei un UNESCO sarakstā iekļautajai vēsturiskajai vecpilsētai. Viesnīca Europa City Vilnius atrodas blakus Lietuvas parlamentam.
Iestādes un pakalpojumi
Ietilpība

Stāvu skaits: 6

128 istaba (-s)

Konfarenču telpas: 4

Pamataprīkojums

Ēst un dzert uz vietas.

Autostāvvieta

Īpašas vēlmes

Allergy adjusted

Physically disabled facilities

Atļauti mājdzīvnieki

Transport Possibilities

Reģistratūra nomas auto

Lidostas transfērs
Kontaktinformācija
Tālruņa numurs (rezervācijām)

Mājaslapa
Salīdzini "Hotel Europa City Vilnius" ar līdzīgām alternatīvām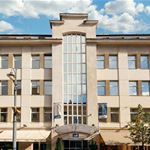 4 star Neringa hotel is situated in the middle of the Vilnius main city's avenue - Gedimino Ave. Many government and business institutions, shops and shopping centers, restaurants, museums, well-known historical landmarks are within walking distance of the hotel Neringa.
The 3-star Grata Hotel is located in central Vilnius, a 15-minute walk of the historic Old Town. It features an indoor pool, a sauna and rooms with free internet. All rooms at the Grata Hotel are classically furnished and decorated with warm tones. Each comes with tea and coffee-making facilities, a refrigerator and a work desk.
This modern, trust worthy hotel is located in Vilnius's centre, only 1.2 km from the Old Town. It offers soundproofed rooms with a flat-screen satellite TV and free Wi-Fi access. The hotel was renovated in 2009 and provides hotel services since then.