Best Western Vilnius Hotel
Adrese
: Konstitucijos ave. 14, LT-09308 Vilnius (
rādīt karti
)
Atrašanās vieta: Viļņa
Viesnīca | Šī viesnīca ir izvietota Neris upes labajā krastā, biznesa rajonā, kas atrodas gājiena attālumā no vecpilsētas.
Viesnīca piedāvā gaišu un modernu interjeru, komfortablus numurus, mājīgu restorānu, biznesa un fitnesa centrus. Tā ir lieliski piemērota uzturēšanās vieta kā biznesa apmeklētājiem, tā arī atpūtas ceļotājiem un grupām.

Viesnīca piedāvā 114 modernus numurus, kas izvietoti ēkas 7 stāvos, no kuriem viesi var baudīt skaistu skatu uz Viļņu. Apvienojiet Jūsu uzturēšanos ar iepirkšanos modernā tirdzniecības un izklaides centrā, kas atrodas viesnīcas tuvumā, ar romantiskām vakariņām sveču gaismā viesnīcas restorānā Europa Classic.
Iestādes un pakalpojumi
Ietilpība

Stāvu skaits: 7

114 istaba (-s)

Konfarenču telpas: 8

Pamataprīkojums

Sauna

Sporta zāle

Baseins iekštelpās

Uzcelšanas gads 1973

Pēdējo reizi atjaunota 2007

Ēst un dzert uz vietas.

Autostāvvieta

Autostāvvieta

Viesnīcas autostāvvieta

Īpašas vēlmes

Allergy adjusted

Physically disabled facilities

Atļauti mājdzīvnieki

Transport Possibilities

Reģistratūra nomas auto

Limuzīnu serviss
Der zināt
Ierakstīšanās (agrākais)

Izrakstīšanās (vēlākais)

Darba laiks
Kontaktinformācija
Tālruņa numurs (rezervācijām)

Mājaslapa
Salīdzini "Best Western Vilnius Hotel" ar līdzīgām alternatīvām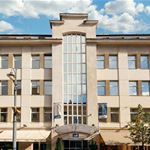 4 star Neringa hotel is situated in the middle of the Vilnius main city's avenue - Gedimino Ave. Many government and business institutions, shops and shopping centers, restaurants, museums, well-known historical landmarks are within walking distance of the hotel Neringa.
Nese Pramogų Bankas ir 4 zvaigžņu viesu nams Viļņas centrā, kas atrodas dažu soļu attālumā no Gedimina bulvāra. Tas piedāvā bezmaksas Wi-Fi pieslēgumu, kā arī kazino.
Viesnīca Amberton – tā ir ideāla vieta, kur apvienojas mūsdienīgums un elegance. Atrodoties paša Vecpilsētas sirdī, viesnīca piedāvā neaizmirstamu ainavu uz kultūras un vēstures pieminekļiem.