Viesnīca | 3 star Superior Hotel ibis Styles Riga is located in a quite area by the river Daugava, in only short tram ride from the Old City and in few minutes walking from Art Nouveau disctrict. Here you will forget about the hustle and bustle of the city, yet with the Old City and business centre at your fingertips.
Modern 3 stars Superior ibis Styles Riga hotel is located in central part of Riga. Here you will forget about the hustle and bustle of the city, yet with the the Old City and business centre at your fingertips.
Riga, stretching all the way to the horizon, waves and wind find a perfect reflection in our hotel. Wooden texture and silver luster symbolize the waterways and harbours of the maritime landscapes. Situated in a quiet and peaceful location by the river Daugava, the hotel captures perfectly the classic values, modernism and strong emotions of this beautiful, historic city.
The inspiration

Ibis Styles Riga was inspired by the busy harbour life, the rapid flow of water and the diversity of environment. City harbour life combines the dynamic business environment in the industrial part of the harbour, and the lazy leisure watching the graceful peace of the passenger terminal.

The design

Already upon entering the hotel reception area guests will be amazed by the splendid view. Every nuance depicts the charm of the harbour life, captured in the wall paintings and colourful elements symbolising the diverse nature of the water. The cool colours used in the interior, interspersed with bright accents encourage the guests to indulge in bright, airy mood and feeling. This special mood has also been captured in the hotel rooms where walls are decorated with colourful panoramas of the nearby port.

The experience

The hotel's special atmosphere fits perfectly into the surroundings of the dynamic and growing city with its wide cultural programs and extensive tourist facilities. Regardless of the style and tempo of recreation you prefer, ibis Styles Riga offers a unique maritime experience of stay to all its visitors and the welcoming staff makes it the perfect place to take a break from the city and business life.
Iestādes un pakalpojumi
Ietilpība

76 istaba (-s)

Konfarenču telpas: 3

Ēst un dzert uz vietas.

Īpašas vēlmes

Physically disabled facilities

Smēķētāju istabas
Der zināt
Ierakstīšanās (agrākais)

Izrakstīšanās (vēlākais)
Salīdzini "ibis Styles Riga" ar līdzīgām alternatīvām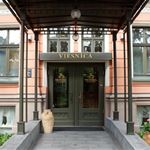 Viesnīca Monika Centrum Hotels atrodas prestižākajā Rīgas rajonā, kur pilsētas centrs apbur Jūs ar saviem parkiem un slavenajām jūgendstila ēkām. Klasiska elegance, mājīgums un viesmīlība ir tas, kas raksturo "Centrum Hotels" visjaunāko viesnīcu. Šeit jūs vienmēr jutīsieties kā mājās. Vēsturiskās ēkas neatkārtojamā burvība, izmeklētais interjers, izsmalcinātā toņu gamma un personāla uzmanība radīs brīnišķīgu atmosfēru, kas ļaus Jums atgūt spēkus
TIA ir 3 zvaigžņu viesnīca, kas atrodas pašā Rīgas centrā, blakus vienai no skaistākajām vietām pilsētā – Vecrīgai, ar tās ievērojamākajiem kultūras, mākslas un atpūtas objektiem, kā arī blakus Rīgas galvenajām tirdzniecības ielām.
Viesnīca Vantis ir ideāla vieta mierīgai atpūtai, romantiskām nedēļas nogalēm, atpūtai ar ģimeni vai konferenču un banketu organizēšanai. Viesnīca atrodas Pārdaugavā - Ķīpsalā pašā Daugavas krastā ar lielisku skatu uz apgaismotiem tiltiem un Vecrīgu, ka arī viesnīcas dārzu un Rīgas ostas industriālo teritoriju. Ekskluzīva iespēja piekļūt viesnīcai ar personīgo jahtu, kuteri vai laivu. Viesnīcas teritorijā tiek piedāvāta bezmaksas apsargājamа virszemes, ka arī pazemes autostāvvieta.