Boutique Hotel & Restaurant MaMa
Adrese
: Tirgoņu iela 22, LV-2015 Jurmala (
rādīt karti
)
Atrašanās vieta: Jūrmala
Viesnīca | Modernā un elegantā dizaina viesnīca ir atvērta 2008.gada vasarā un atrodas netālu no pludmales, upes un Jūrmalas centra.
Dizaina viesnīca Mama ir izvietota atjaunotā, Jūrmalai raksturīgā koka arhitektūras stila ēkā.
Viesnīcas numuri un dzīvokļi ir aprīkoti ar daudzām mūsdienu ērtībām, tostarp gaisa kondicionētāju, kā arī vannas istabu ar apsildāmu grīdu un siltu dvieļu žāvētāju.
Garšīgi Vidusjūras reģiona un Baltijas virtuves ēdieni tiek pasniegti restorānā ar vasaras terasi, apsildāmu grīdu un elegantu interjeru. Suņiem un kaķiem tiek piedāvāta īpaša ēdienkarte.
Iestādes un pakalpojumi
Ietilpība

Stāvu skaits: 3

7 istaba (-s)

9 gulta (-s)

Konfarenču telpas: 1

Uzcelšanas gads 2008

Pēdējo reizi atjaunota 2008

Autostāvvieta

Īpašas vēlmes
Salīdzini "Boutique Hotel & Restaurant MaMa" ar līdzīgām alternatīvām
4 zvaigžņu viesnīca Jūrmala SPA hotel ir mūsdienīgs spa kūrorts un konferenču centrs, kas atrodas tikai īsas pastaigas attālumā no pludmales. Piedāvā bezmaksas bezvadu internetu koplietošanas telpās un bezmaksas autostāvvietu. Viesnīcas SPA un veselības centrs izvietots vairāk nekā 2 stāvos un piedāvā dažāda veida masāžas un ūdens terapiju. Spa zonā atrodas vairāki baseini ar dažādām temperatūrām, burbuļvannas, 5 dažādas saunas, solārijs un bārs.
Viesnīca Baltā Pūce ir unikāla ar to, ka atrodoties pašā dzīvākajā kūrortpilsētas rajonā Majoros (Jūrmalā), tā piedāvā klusumu, mieru, ģimeniskuma un mājīguma sajūtu! Ēka ir būvēta no koka un tai ir 100 gadus ilga vēsture. Viesnīca atrodas saulainā, priežu ieskautā, privāti norobežotā teritorijā tūlīt aiz Jūrmalas kāpām.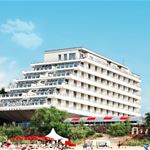 Nestled directly on the shore of the Baltic Sea, the 5-star Baltic Beach Hotel & SPA has a unique location in Jurmala amidst the dunes and lushly pine-trees. Offering direct access to the fully equipped private beach with catering service, it is ideally located in the heart of Jurmala within walking distance to main cultural and recreational institutions, railway station, restaurants, shops and other attractions.