St.Olav viesnīca
Adrese
: Lai 5, 10133 Tallinn (
rādīt karti
)
Atrašanās vieta: Tallina
Viesnīca | St. Olav viesnīca savas durvis vēra salīdzinoši nesen un tā savu nosaukumu ieguva par godu norvēģu karalim St. Olaf Haroldson. Viesnīca ir iekārtota ēkā, kas ir saglabājusies no 15. gs. un ir cieši saistīta ar leģendām. Koka kāpnes, dabīgais akmens, tekstils, izstrādātas detaļas un fragmenti rada unikālu viduslaiku pasakas atmosfēru. Viesnīcas atrašanās vieta arī ir unikāla- trīs minūšu gājiena attālumā no rātslaukuma, plašākajā un klusākajā vecpilsētas ielā. Viesnīcas 4 stāvos ir 90 skaisti iekārtotas istabas, ieskaitot Deluxe Suite un Junior Suite ar saunu. Istabu interjerā ir izmantoti tikai dabiski un ekoloģiski tīri materiāli. Standarta istabās interjerā ir izmantotas pseido- gotiska koka un akmens detaļas, rakstains tekstils, kalti ornamenti; grīdas segums ir dabīgais korķis.
Restorāns atrodas lieliskā plašā zālē, pilnā ar gaisu un gaismu. Lielā zāle ir savienota ar mazo zāli- uz vienas no sienām ir sens sienas gleznojuma fragments, kurš atgādina, ka Jūs pusdienojat vēsturiskā telpā. Šīs ir telpas, kur bagāti un augsta statusa muižnieki mēdza rīkot greznas pieņemšanas un ekskluzīvus svētkus. Neskatoties uz viesnīcas neilgo pastāvēšanas laiku, St. Olav viesnīca ir rīkojusi virkni augstas klases notikumu. Viesnīcas konferenču zāles nodrošina sēdvietas 50 un 115 viesiem. Konferenču zāles cenā iekļauts: projektors, TV, interneta piekļuve, kodoskops, papīra tāfele, ekrāns. Augstie griesti, vecās bildes uz sienām, gaisma, kas plūst no venēciešu logiem, rada labvēlīgu atmosfēru jaunām idejām, radošai pieejai, ātriem un pareiziem lēmumiem.
Iestādes un pakalpojumi
Ietilpība

Stāvu skaits: 4

90 istaba (-s)

Konfarenču telpas: 3

Uzcelšanas gads 1437

Pēdējo reizi atjaunota 2008

Ēst un dzert uz vietas.
Der zināt
Ierakstīšanās (agrākais)

Izrakstīšanās (vēlākais)

Darba laiks
Kontaktinformācija
Tālruņa numurs (rezervācijām)

Mājaslapa
Salīdzini "St.Olav viesnīca" ar līdzīgām alternatīvām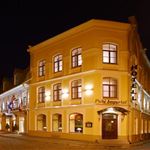 Hotel Imperial offers 32 comfortable and well-designed rooms.All rooms provide Internet access.We have a choice of various rooms:10 single rooms, 18 double rooms, junior suite, 2 de luxe rooms with kitchenette and 1 suite with sauna and Jacuzzi.The choice includes also special rooms for our disabled guests and guests suffering from allergies.All rooms are equipped with SAT-TV,direct dial telephone,free Internet access,hairdryer,minibar.
Viesnīca Three Crowns Residents viesus gaida Tallinas centrā. Naktsmītne atrodas vēsturiskā vietā, un tai ir bruģakmens pagalms, zāles loga rāmis no 14. gadsimta un saules pulkstenis no 1604. gada. Viesnīcā ir restorāns, un viesu rīcībā ir bezmaksas bezvadu interneta pieslēgums.