Artis Centrum Hotels
Adrese
: Totoriu str. 23, LT 01120 Vilnius (
rādīt karti
)
Atrašanās vieta: Baltija
Viesnīca | 4 zvaigžņu viesnīca Artis Centrum Hotels atrodas Viļņas vecpilsētas centrā, atjaunotā 19.gadsimta ēkā.Pastaigas attālumā pa Viļņas vecpilsētas vēsturiskajām ielām, atrodas katedrāle, Ģedimina tornis un dažādi muzeji. No viesnīcas Artis numuriem paveras skaisti skati uz vecpilsētu, Ģedimina torni, Trīs krustiem, Prezidenta pili un Lietuvas Aizsardzības ministriju.
Mums ir 108 numuri, iekārtoti klasiskā stilā: 94 divvietīgi numuri, 12 vienvietīgi numuri, 8 mazie apartamenti ("junior suite") un 4 grezni apartamenti. Visos numuros ir gaisa kondicionieris, satelīttelevīzija, maksas televīzijas kanāli, tālrunis, pastāvīga pieeja bezvadu internetam, minibārs, seifs personīgām lietām, fēns, durvju actiņa, slēdzene un elektroniskās atslēgas.
Viļņas Starptautiskā lidosta atrodas 7 km attālumā, bet dzelzceļa un autobusu stacijas tikai 3,5 km attālumā.
Iestādes un pakalpojumi
Ietilpība

Stāvu skaits: 5

118 istaba (-s)

224 gulta (-s)

Konfarenču telpas: 8

Pamataprīkojums

Sauna

Sporta zāle

Baseins iekštelpās

Masāža

Uzcelšanas gads 2001

Pēdējo reizi atjaunota 2014

Ēst un dzert uz vietas.

Īpašas vēlmes
Salīdzini "Artis Centrum Hotels" ar līdzīgām alternatīvām
Viesnīca Amberton – tā ir ideāla vieta, kur apvienojas mūsdienīgums un elegance. Atrodoties paša Vecpilsētas sirdī, viesnīca piedāvā neaizmirstamu ainavu uz kultūras un vēstures pieminekļiem.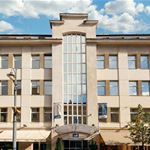 4 star Neringa hotel is situated in the middle of the Vilnius main city's avenue - Gedimino Ave. Many government and business institutions, shops and shopping centers, restaurants, museums, well-known historical landmarks are within walking distance of the hotel Neringa.
Situated on the quiet Vingriu Street close to the Synagogue in Vilnius Old Town 3 star hotel Rinno offers en suite, Scandinavian-style rooms with satellite TV, hairdryers and free Wi-Fi. Guests can start their day with a fine breakfast including traditional choices as well as delicious cooked-on-request pancakes and omelettes.