Viesnīca | Hotel Hansalinn is most conveniently situated in the heart of Pärnu and all the most interesting and evocative city sights are within a short walking distance.
Wheter you are travelling on business, a couple on a (weekend) trip or on holiday with the family, Hansalinn is the ideal place to stay!
We are very glad that many of our guests visit us regularly, as they enjoy the atmosphere and personal service of our cozy hotel.
Iestādes un pakalpojumi
Ietilpība

Stāvu skaits: 2

11 istaba (-s)

Pamataprīkojums

Ēst un dzert uz vietas.
Der zināt
Ierakstīšanās (agrākais)

Izrakstīšanās (vēlākais)
Kontaktinformācija
Kontaktpersonas e-pasts

Mājaslapa
Salīdzini "Hansalinn Hotel" ar līdzīgām alternatīvām
Koidulapark Hotel is in the former fortification area of the historical centre of Pärnu. The ancient fortifications were liquidated at the end of the 19th century and the territory was divided into plots.
Pēc nogurdinoša ceļojuma vai saspringtas darba dienas vienmēr ir patīkami ierasties tur, kur patiešām tiekat gaidīti. Ja, ienākot pa durvīm, Jūs sagaida ar laipnu smaidu un mājīga atmosfēra, kas vilina uzkavēties ilgāk, tad Jūs esat nonākuši Hotell Pärnu!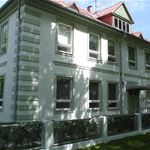 Ribere Apartment is located in the centre of Pärnu, 800 m from the Pärnu Bay beach. It offers self-catering accommodation with a fireplace and free Wi-Fi