Tour to Jurmala
Address: Jurmala
Date: Šeštadienis 15 grd 2018 - pirmadienis 31 Grd 2018
Show map
Address: Jurmala

Optional Tour to Jurmala (duration: 3 hours including transfers & shopping)
Jurmala, a resort town possessing 150-year-old resort traditions, occupies approximately one-tenth part of the coastal line. Jurmala is the place for a city dweller tired of life to reacquire the feeling of being the Nature's child. Here fresh sea wind will fill people's lungs and make them dizzy with the smell of pines, the eyes will rest in the blue of the sea, the feet will sink in the soft golden sand…Now, after the 50-year-long isolation again various generations from various countries may enjoy the special gentle charm, curative waters and mud baths of Jurmala… Jurmala with its romantic wooden houses in art nouveau (Jugendstil), its spacious beaches, forests, and calmly flowing Lielupe river is especially attractive in the modern world of standards, for it has not lost its singularity.
Show more
Book now - choose start date and product
Hotel
Distance: 11,7 km
4 žvaigždučių viešbutyje "Jurmala SPA hotel" neseniai atidarytas modernus SPA ir konferencijų centras. Jis įsikūręs tik 25 km. nuo Rygos, viename iš Latvijos seniausių ir įspūdingiausių kurortų - Jūrmaloje ir tai tik pora šimtų metrų nuo auksinių paplūdimių Rygos įlankos pakrantėje. Įsikūręs tik pėsčiųjų gatvė, viešbutis "Jurmala SPA" turi 190 patogius ir erdvius kambarius su galimybe sutalpinti 380 lovų. Viešbutis dekoruotas tik natūraliomis medžiagomis - medis ir akmuo - sukuria raminančią ir atpalaiduojančią atmosferą.
Hotel
Distance: 11,5 km
The building reflects the tendencies of contemporary architecture and charmingly fits into the landscape of Jurmala. One can see from the hotel the sun rising over the river and hear the pines rustling in the seaside dunes.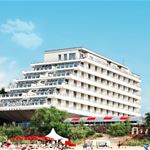 Hotel
Distance: 11,4 km
Nestled directly on the shore of the Baltic Sea, the 5-star Baltic Beach Hotel & SPA has a unique location in Jurmala amidst the dunes and lushly pine-trees. Offering direct access to the fully equipped private beach with catering service, it is ideally located in the heart of Jurmala within walking distance to main cultural and recreational institutions, railway station, restaurants, shops and other attractions.