Ventspils the Latvias bigest seaport where the Venta River join the sea. At the Ventspils Open-Air Museum of Maritime Fishing you can see fishermen's houses, fishing boats and tools. There is also a windmill and a narrow gauge train running in the territory of the museum. The boat "Hercogs Jekabs" will take you on a river cruise down to the sea. The way to Ventspils going through the wooden part of Latvia-Kurzeme.
Show more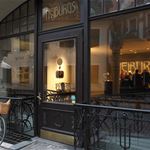 Hotel
Distance: 346 meters
Neiburgs hotel is located in the very heart of Riga's Old Town in a majestic art nouveau building dating back to 1903, overlooking the Dome Square and the spires of the nearby churches. Cafés, shops and museums as well as the Opera house are a stone's throw away.
Hotel
Distance: 469 meters
Elegant and cozy interior and high-class service creates a fabulous atmosphere for your perfect holidays or successful business trip.
Hotel
Distance: 193 meters
Keturių žvaigždučių viešbutis "Gutenbergs" įsikūręs Rygos senamiestyje stūksančiame renovuotame XIX a. pastate. Čia įrengti antikvariniais baldais apstatyti numeriai, kuriuos puošia puikios kokybės audiniai. Viešbutyje veikia nemokamas belaidis internetas.