Ventspils the Latvias bigest seaport where the Venta River join the sea. At the Ventspils Open-Air Museum of Maritime Fishing you can see fishermen's houses, fishing boats and tools. There is also a windmill and a narrow gauge train running in the territory of the museum. The boat "Hercogs Jekabs" will take you on a river cruise down to the sea. The way to Ventspils going through the wooden part of Latvia-Kurzeme.
Show more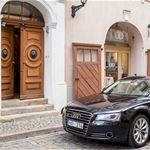 Hotel
Distance: 188 meters
5 žvaigždučių viešbutis "Dome Hotel & Spa" įkurtas autentiškai restauruotame 400-metų senumo pastate, ramioje gatvėje, Rygos senamiesčio širdyje. Šiame prabangiame boutique viešbutyje apjungtas istorinis paveldas, modernus interjeras ir aukščiausio lygio technologijos.
Hotel
Distance: 326 meters
Four-star boutique Hotel Justus is located in the heart of the old town of Riga, literally a few steps away from the famous Dome cathedral, within the architectural area protected by UNESCO as a part of world heritage.
Hotel
Distance: 193 meters
Keturių žvaigždučių viešbutis "Gutenbergs" įsikūręs Rygos senamiestyje stūksančiame renovuotame XIX a. pastate. Čia įrengti antikvariniais baldais apstatyti numeriai, kuriuos puošia puikios kokybės audiniai. Viešbutyje veikia nemokamas belaidis internetas.