Walking Tour - Old Riga (1.5 hours)
Show map
Old Riga is the historical and geographical centre of Riga, located on the right bank of the Daugava River. Old Riga comprises a fairly small interior fortification system area (built during XIII-XVIII centuries), where unique middle-aged architectural monuments are concentrated.
Show more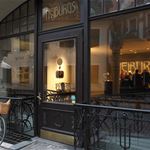 Hotel
Distance: 144 meters
Neiburgs hotel is located in the very heart of Riga's Old Town in a majestic art nouveau building dating back to 1903, overlooking the Dome Square and the spires of the nearby churches. Cafés, shops and museums as well as the Opera house are a stone's throw away.
Hotel
Distance: 128 meters
Keturių žvaigždučių viešbutis "Gutenbergs" įsikūręs Rygos senamiestyje stūksančiame renovuotame XIX a. pastate. Čia įrengti antikvariniais baldais apstatyti numeriai, kuriuos puošia puikios kokybės audiniai. Viešbutyje veikia nemokamas belaidis internetas.
Hotel
Distance: 145 meters
Four-star boutique Hotel Justus is located in the heart of the old town of Riga, literally a few steps away from the famous Dome cathedral, within the architectural area protected by UNESCO as a part of world heritage.