World-famous Italian tenor Andrea Bocelli will please his fans in Latvia next year again. The Italian superstar has been in our country twice. On 7 November 2017 he will have a concert in "Arena Riga".
Although currently it is still unknown what program one of the most popular tenors in the world will present to music connoisseurs in 2017, it is likely that the audience will enjoy a lot of romance and selection of the world's most famous operatic arias – next year there will be a 20 year anniversary after the release of the most successful A.Bocelli's album Romanza. On this occasion, the anniversary version of the album will soon be released. More than 20 million copies of the first Romanza edition have been sold, making it all-time commercially most successful album in Italy.

The number of sold records of the singer, who has reached all possible career heights, is more than 80 million. He has received the World Music (WMA), Golden Globe, ECHO, British Classical Music and many other awards. Even a beach in Italy is named after Andrea Bocelli who was immortalised in the Hollywood Walk of Fame for lifetime achievements. Starting as a singer in bars and restaurants as a young man, today he performs to monarchs, popes, presidents and thousands of spectators in prestigious opera theatres, largest arenas and events such as the closure of the Turin Olympics, the NBA All-Star weekend or the UEFA Champions League final.

Nothing stopped the famous Italian to achieve fame and recognition. Andrea Bocelli has managed to perfect his skills so that his voice is called divine. "If God could sing, his voice would be like Andrea Bocelli", the singer Celine Dion, with whom the tenor has recorded the world's popular song The Prayer, once has said. The unique timbre and a voice of wide range, along with sensuality stemming from the depths of the soul, is perfectly known to both opera fans and pop ballad lovers.
Price information
From 27.00 EUR
Hotel
Distance: 550 meters
Avitar hotel tai jaukus viešbutis, įsikūręs ramiame Rygos centre ir yra arčiausiai "Arena Riga" koncertų ir renginių salės.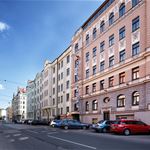 Hotel
Distance: 875 meters
City Hotel TEATER is located in a vibrant cultural and quiet business part of Riga city center.