Kaunas Hotel
Address

: Laisves ave. 79, LT-44297 Kaunas
show map
Location: Kaunas
Hotel | The Hotel Kaunas is not only a new and modern Hotel but it also has a convenient location and excellent staff. It is situated in the city's downtown - Laisvės avenue. Its location is ideal for those who come to Kaunas on business or for pleasure since its area is surrounded by cultural, commercial and financial objects and it takes just several minutes to reach the old town.
The hotel houses 62 rooms, including room for non-smokers, suites with separate bedrooms, executive suites, a triple room and rooms for disabled guests.

In each room You can find telephone and internet lines, a TV set and sattelite TV with 20 channels, a mini bar, a cosy bathroom with heated floor, and a hairdryer. The majority of rooms have air conditioning systems, and for the convenience of our guests we offer individual safes.

The rooms, located on the upper floors facing Laisvės avenue, are especially well-liked by our guests. From here, a picturesque panorama of Laisvės avenue and Žaliakalnis area opens for our guests.
Facilities and services
Capacity

Number of floors: 5

85 room(s)

Conference rooms: 4

General facilities

Sauna

Golf

Gym

Uždaras baseinas

Massage

Built in year 1999

Last renovated year 2008

Eat & Drink on site

Parking

Parking

Viešbučio parkingas

Special requirements

Jau suderinta

Paslaugos žmonėms su negalia

Nam. gyvuliai leid.

Transport Possibilities

Automobilių nuomos paslaugos

Pervežimo iš oro uosto į viešbutį paslauga
Good to know
Check in (earliest)

Check out (latest)

Opening hours
Contact information
Phone number (booking)

Website
Compare "Kaunas Hotel" with similar alternatives
"Kaunas City" is a cozy hotel situated in the heart of the city, allowing to rest, while still being close to the hustle and bustle of the city.
This Park Inn is located in Kaunas, 300 metres from Laisvės alėja. It offers spacious, air-conditioned rooms with a flat-screen with satellite channels and free Wi-Fi. Free private parking is available.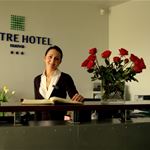 CENTRE HOTEL — tai trijų žvaigždučių viešbutis pačiame Kauno miesto centre. Buvęs Žaliakalnio viešbutis įsikūręs ramioje vietoje ant Žaliakalnio šlaito, visiškai šalia pagrindinės miesto arterijos — Savanorių pr.