Hotel Vantis
Address
: Balasta dambis 78, LV-1048 Riga
(
show map
)
Location: Riga
Hotel | If you are looking for a quiet place to rest with family, to spend a romantic weekend, or to organize a conference, Vantis hotel be the right choice! The hotel is close to the river Daugava, on its left bank – in Ķīpsala with a wonderful view on the illuminated bridges over the Daugava and Old Riga, as well as the hotel park and the industrial territory of Riga port. You also have an exclusive river access to hotel with a yacht, cutter or boat. Hotel territory includes a safe car park.
Hotel offers 12 comfortable double rooms. The rooms are arranged according to scandinavian style and they meet the standards for modern hotel accomodation. Hotel offers also a conference hall for meetings, banquets and seminars for 40-50 participants.
Compare "Hotel Vantis" with similar alternatives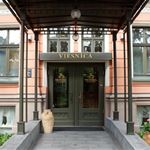 Viešbutis "Monika Centrum Hotels" yra įsikūręs istoriniame neogotikiniame Tisenhausen pastate, kuris buvo pastatytas 1883 metais. Iki Rygos senamiesčio yra 500 metrų. 4 žvaigždučių viešbutis siūlo nemokamą belaidį internetą ir savitarnos pusryčius. Visuose kambariuose ir liukso numeriuose [suites] yra oro kondicionieriai, palydovinė televizija ir mini barai. Kai kuriuose rasite patogų chalatą ir šlepetes. Viešbučio "Monika Centrum Hotels" svečiai
5 žvaigždučių "Gallery Park hotel" viešbutis yra įsikūręs 19-ojo amžiaus pastate, Rygos centre, įtrauktame į UNESCO Pasaulio paveldo sąrašą. Visi kambariai ir apartamentai su antikvariniais baldais yra papuošti originaliais meno kūriniais. Juose yra "Frette" patalynė ir erdvūs vonios kambariai su šildomomis grindimis bei "Thalgo" tualetiniais reikmenimis. Iš visų kambarių atsiveria panoraminiai Kronvalda parko, Meno muziejaus ir Rygos gatvių vaizdai.
Keturių žvaigždučių viešbutis "Gutenbergs" įsikūręs Rygos senamiestyje stūksančiame renovuotame XIX a. pastate. Čia įrengti antikvariniais baldais apstatyti numeriai, kuriuos puošia puikios kokybės audiniai. Viešbutyje veikia nemokamas belaidis internetas.