Amberton hotel
Address
: L. Stuokos Guceviciaus str. 1, LT-01122 Vilnius (
show map
)
Location: Vilnius
Hotel | Viešbutis AMBERTON gali džiaugtis ytin patogia vieta mieste. Viešbutis įsikūręs prieš Katedrą ir viešbučio svečiai gali mėgautis išskirtiniais vaizdais į pagrindinę miesto aikštę ir Gedimino pilį.
Keturių žvaigždučių viešbutis Amberton įsikūręs pačioje miesto širdyje – priešais Katedrą, džiaugiasi galėdamas pasiūlyti savo svečiams nepakartojamus Vilniaus senamiesčio ir istorinių bei architektūrinių paminklų vaizdus. Jums nereikia ieškoti miesto centro – apsistoję mūsų viešbutyje, atsidursite miesto žymiausių lankytinų vietų, kultūros bei meno objektų, muziejų, pramogų ir laisvalaikio vietų apsuptyje. Gedimino prospektas - 30 metrų nuo viešbučio, žymiausia senamiesčio Pilies gatvelė - 100 metrų nuo viešbučio.
Vilniaus oro uostą pasieksite per ąįminučių. Užtruksite apie valandą su puse iki Kauno Karmėlavos oro uosto.
Nesvarbu, ar atvyksite verslo reikalais, ar atostogauti, mes pasirūpinsime, kad Jūsų viešnagė būtų sklandi ir kupina geriausių įspūdžių.
Facilities and services
Capacity

Number of floors: 5

98 room(s)

Conference rooms: 5

Built in year 1997

Last renovated year 2012

Eat & Drink on site

Parking

Parkingas (rakinamas garažas)

Viešbučio parkingas

Mokamas parkingas

Parkingas (Saugus ne gatvėje)

Special requirements

Jau suderinta

Paslaugos žmonėms su negalia

Pets not allowed

Transport Possibilities

Automobilių nuomos paslaugos

Pervežimo iš oro uosto į viešbutį paslauga
Contact information
Phone number (booking)

Website
Compare "Amberton hotel" with similar alternatives
Jaukus, šeimos valdomas, keturių žvaigždučių prabangus viešbutis "Artis Centrum Hotels", esantis pačioje Vilniaus širdyje – Senamiestyje — padės Jums atsipalaiduoti taip, tarsi būtumėte namuose. Nesvarbu, ar ką tik išlipote iš lėktuvo, ar grįžote iš įkvepiančio pasivaikščiojimo siauromis, akmenimis grįstomis senamiesčio gatvelėmis, ar įtempto verslo susitikimo — erdvūs klasikinio stiliaus kambariai suteiks Jums ramybę ir tobulą poilsį.
Svečių namai "Nesė Pramogų bankas" įsikūrę Vilniaus centre stūksančiame istoriniame pastate, vos už keleto žingsnių nuo Gedimino prospekto. Apsistoję čia galėsite naudotis nemokamu belaidžiu internetu ir užsukti į kazino.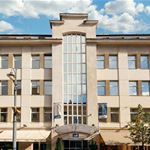 Viešbutis Neringa hotel - tai keturių žvaigždučių verslo klasės viešbutis, įsikūręs pačiame Vilniaus centre, Gedimino prospekte. Tiesiog ant viešbučio slenksčio svečių laukia platus pramogų pasirinkimas: muziejai, teatrų ir koncertų salės, restoranai, naktiniai klubai, parduotuvės ir suvenyrų kioskai. Iki senamiesčio - tik penkios minutės pėsčiomis!