Viešbutis Pärnu
Address

: Rüütli 44, 80010 Parnu
show map
Location: Parnu
Hotel | Šis viešbutis Hotel Pärnu yra Pernu centre. Jis siūlo nemokamą belaidį internetą ir erdvius kambarius su balkonais, kabeline televizija ir mini barais. Iš kambarių atsiveria vaizdai į Pernu miestą ir parkus.
Viešbutyje "Pärnu" yra sauna, soliariumas ir treniruoklių centras. Restorane "Embecke" patiekiami Estijos ir tarptautinės virtuvės valgiai. Viešbučio bare siūlomi įvairūs kokteiliai ir užkandžiai. Iš viešbučio "Pärnu" greitai nueisite iki įvairių restoranų ir parduotuvių bei autobusų stoties.
Facilities and services
Capacity

Number of floors: 7

80 room(s)

Conference rooms: 4

General facilities

Sauna

Bicycle rental

Gym

Hair salon

Jacuzzi

Massage

Beauty salon

Eat & Drink on site

Parking

Bus parking

Parking

Viešbučio parkingas

Mokamas parkingas

Special requirements

Jau suderinta

Child friendly

Paslaugos žmonėms su negalia

Nam. gyvuliai leid.

Smoking rooms

Transport Possibilities

Automobilių nuomos paslaugos
Contact information
Phone number (booking)

Website
Compare "Viešbutis Pärnu" with similar alternatives
Koidulapark Hotel is in the former fortification area of the historical centre of Pärnu. The ancient fortifications were liquidated at the end of the 19th century and the territory was divided into plots.
Hotel Hansalinn is most conveniently situated in the heart of Pärnu and all the most interesting and evocative city sights are within a short walking distance.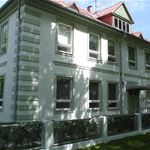 Ribere Apartment is located in the centre of Pärnu, 800 m from the Pärnu Bay beach. It offers self-catering accommodation with a fireplace and free Wi-Fi