Balta Puce hotel
Address
: Pilsonu str. 7/9, LV 2015 Jurmala (
show map
)
Location: Majori
Hotel | Šis viešbutis unikalus tuo, kad jis įsikūręs pačiame gyvybiškiausiame kurorto rajone, jis siūlo tyla, ramybę, šeimos globos nuotaiką. Pastatas pastatytas iš medžio ir siekia 100 metų istoriją. Viešbutis įsikūręs saulėtoje, apsuptoje pušų privačioje teritorijoje, iškart už Jurmalos kopų.
Viešbutis "Balta Puce" siūlo 11 patogių ir jaukių dviviečių kambarių su dušu ir vonia, fenu, telefonu, belaidžiu internetu, seifu, TV, taip pat automobilų stovėjimo aikštele. Viešbutis taip pat bendradarbiauja su Jurmalos Spa centru ir vandens atrakcionu parku "Livu akvaparks".

Jaukiam restorane, platus maisto ir gėrimų pasirinkimas visiems skoniams. Restoranas dirba nuo 10:30 iki 01:00.
Atvira terasa ant stogo – Vasaros sodas – restoranas, kurį mes vadinam "Baltos peledos lizdu" tai reiškia maistas gaiviame ore kvepančiame, jūra, gintaru, pušų smala, ir be abejo gerai keptu steiku.
Čia ypatingas dėmesys kiekvienam klientui ir puikus personalo aptarnavimas. Vienas iš prestižiškiausių viešbučių Rygoje ir Jurnmaloje pasirūpins kad jaustumėtes patogiai visą parą.
Kviečiame jus apsilankyti viešbutyje "Balta Puce".

Facilities and services
Capacity

Number of floors: 3

11 room(s)

Conference rooms: 1

AttributeSection.GroupTitle.Theme

General facilities

Bicycle rental

Gym

Children's playground

Spa

Built in year 1914

Last renovated year 2007

Eat & Drink on site

Parking

Parking

Viešbučio parkingas

Parkingas (Saugus ne gatvėje)

Special requirements

Jau suderinta

Child friendly

Nam. gyvuliai leid.

Pramogų Vaikams Programa

Transport Possibilities

Automobilių nuomos paslaugos

Limousine service

Pervežimo iš oro uosto į viešbutį paslauga
Good to know
Check in (earliest)

Check out (latest)

Opening hours
Contact information
Phone number (booking)

Website
Compare "Balta Puce hotel" with similar alternatives
4 žvaigždučių viešbutyje "Jurmala SPA hotel" neseniai atidarytas modernus SPA ir konferencijų centras. Jis įsikūręs tik 25 km. nuo Rygos, viename iš Latvijos seniausių ir įspūdingiausių kurortų - Jūrmaloje ir tai tik pora šimtų metrų nuo auksinių paplūdimių Rygos įlankos pakrantėje. Įsikūręs tik pėsčiųjų gatvė, viešbutis "Jurmala SPA" turi 190 patogius ir erdvius kambarius su galimybe sutalpinti 380 lovų. Viešbutis dekoruotas tik natūraliomis medžiagomis - medis ir akmuo - sukuria raminančią ir atpalaiduojančią atmosferą.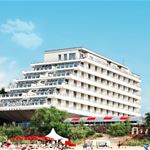 Nestled directly on the shore of the Baltic Sea, the 5-star Baltic Beach Hotel & SPA has a unique location in Jurmala amidst the dunes and lushly pine-trees. Offering direct access to the fully equipped private beach with catering service, it is ideally located in the heart of Jurmala within walking distance to main cultural and recreational institutions, railway station, restaurants, shops and other attractions.
Eiropa Deluxe is located on Jomas iela 76, 150 meters from the main Eiropa Hotel's building.