Avitar hotel
Address

: Kr. Valdemara str. 127, LV 1013 Riga
show map
Location: Riga
Hotel | Avitar hotel tai jaukus viešbutis, įsikūręs ramiame Rygos centre ir yra arčiausiai "Arena Riga" koncertų ir renginių salės.
Viešbutyje Avitar yra restoranas, baras, konferencijų salė (iki 25 ar 30 žmonių), saugojimo spintelės ir automobilių stovėjimo aikštelė. Kadangi viešbutis yra centre, jūs galite lengvai pasiekti verslo centrą, sauną, baseiną, naktinius klubus, kazino ar bet kokią kitą pramogos vietą vos per 5 - 15 minučių.
Facilities and services
Capacity

Number of floors: 6

40 room(s)

Conference rooms: 1

Built in year 1930

Last renovated year 2001

Eat & Drink on site

Parking

Special requirements

Transport Possibilities

Automobilių nuomos paslaugos

Pervežimo iš oro uosto į viešbutį paslauga
Good to know
Check in (earliest)

Check out (latest)

Opening hours
Contact information
Phone number (booking)

Website
Compare "Avitar hotel" with similar alternatives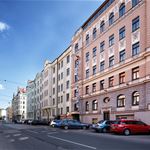 City Hotel TEATER is located in a vibrant cultural and quiet business part of Riga city center.
TIA Hotel is a three star hotel that is located in the very center of Riga, next to one of the most beautiful places of the city, the Old Riga, with its most notable objects of culture, art and leisure as well as nearby major shopping streets of Riga.
Trijų žvaigždučių viešbutis "Art Hotel Laine" įsikūręs istoriniame Rygos centre, už 10 minučių kelio pėsčiomis nuo senamiesčio. Svečiams čia siūloma apsistoti numeriuose su kabelinius kanalus rodančiais televizoriais ir mini barais bei naudotis nemokamu internetu.