Albert hotel
Address
: Dzirnavu str. 33, LV-1010 Riga (
show map
)
Location: Riga
Hotel | Viešbutis "Albert" įsikūręs Rygos centre, netoli senamiesčio. Visi modernūs kambariai yra nepralaidūs garsui su oro kondicionieriais ir nemokamu belaidžiu internetu.
Viešbučio "Albert" restorane tiekiami tarptautinės ir latvių virtuvės patiekalai. Viršutiniame viešbučio aukšte įsikūręs vestibiulio baras su didele terasa. Nuo terasos atsiveria vaizdas į miestą ir jo tiltus.
Kabelinė televizija, mini baras ir darbo stalas yra kiekviename kambaryje.
Viešbutis "Albert" įsikūręs komerciniame Rygos centre, netoli nuo ambasadų, ministerijų, pagrindinių parodų centrų ir sporto klubų. Garsiausia Rygos gatvė - Albertas lela su savo išskirtine art nouveau architektūra yra vos už kelių žingsnių nuo viešbučio.
Autobusų stotis yra vos už minutės pėsčiomis nuo viešbučio. Iki Rygos geležinkelio stoties 2 km.
Facilities and services
Capacity

Number of floors: 11

246 room(s)

Conference rooms: 3

Built in year 1960

Last renovated year 2005

Eat & Drink on site

Special requirements

Jau suderinta

Paslaugos žmonėms su negalia

Nam. gyvuliai leid.
Good to know
Check in (earliest)

Check out (latest)

Opening hours
Compare "Albert hotel" with similar alternatives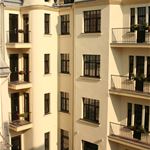 Viešbutis "Edvards hotel" yra nedidelis, šeimai priklausantis viešbutis Rygos centre, vos 3 kvartalai nuo istorinio senamiesčio. Viešbučio vieta leidžia lengvai aplankyti greta esančius muziejus, meno galerijas, "Skonto" salę, "Riga" areną, madingas parduotuves, restoranus ir kavines.
Trijų žvaigždučių viešbutis "Art Hotel Laine" įsikūręs istoriniame Rygos centre, už 10 minučių kelio pėsčiomis nuo senamiesčio. Svečiams čia siūloma apsistoti numeriuose su kabelinius kanalus rodančiais televizoriais ir mini barais bei naudotis nemokamu internetu.
5 žvaigždučių "Gallery Park hotel" viešbutis yra įsikūręs 19-ojo amžiaus pastate, Rygos centre, įtrauktame į UNESCO Pasaulio paveldo sąrašą. Visi kambariai ir apartamentai su antikvariniais baldais yra papuošti originaliais meno kūriniais. Juose yra "Frette" patalynė ir erdvūs vonios kambariai su šildomomis grindimis bei "Thalgo" tualetiniais reikmenimis. Iš visų kambarių atsiveria panoraminiai Kronvalda parko, Meno muziejaus ir Rygos gatvių vaizdai.