Koidulapark Hotel
Address

: Kuninga 38, 80010 Parnu
show map
Location: Parnu
Hotel | Koidulapark Hotel is in the former fortification area of the historical centre of Pärnu. The ancient fortifications were liquidated at the end of the 19th century and the territory was divided into plots.
The hotel rooms have a superb view of the 150-year-old oak avenue and the beautiful park named after the Estonian poetess Lydia Koidula. On the other side, there is the view of the historical firewalls that divide the plots in the centre of the town. The interior design of the hotel is based on the traditional methods and fashion of the beginning of the 20th century. The colours harmonise with the shades of the park in summer. There is a lobby bar in the foyer, providing a pleasant atmosphere for a coffee and a chat. The reception provides versatile information about events as well as catering establishments and other services available in Pärnu. One can book a table at a restaurant, an appointment in a beauty parlour, etc. in the reception. In addition to that, it is possible to post or fax letters, buy consumer goods or use a safe deposit box at the reception. Owing to its cosy atmosphere and customer-oriented service, the Koidulapark Hotel is the place one would like to return. The only single room of the hotel on the first floor has a wonderful view of the park. The room is unique due to its original wooden board floor dating from 1905. There are 37 double rooms in the hotel, (16 rooms have a double bed, 21 rooms have twin beds). A family room on the ground floor accommodates up to four family members. Up to two extra beds can be fitted in. There is a room for the disabled, which meets all the requirements, in the ground floor. The meeting room of the Koidulapark Hotel can seat up to 25 people. Conference equipment as well as a WIFI access to the Internet are at the disposal of customers. The doors of the meeting room open to the hotel terrace, which is a pleasant place for breaks.
Facilities and services
Capacity

Number of floors: 3

39 room(s)

Conference rooms: 1

General facilities

Built in year 1905

Last renovated year 2010

Eat & Drink on site

Parking

Special requirements

Paslaugos žmonėms su negalia

Smoking rooms
Good to know
Check in (earliest)

Check out (latest)
Contact information
Contact person email

Website
Compare "Koidulapark Hotel" with similar alternatives
Šis viešbutis Hotel Pärnu yra Pernu centre. Jis siūlo nemokamą belaidį internetą ir erdvius kambarius su balkonais, kabeline televizija ir mini barais. Iš kambarių atsiveria vaizdai į Pernu miestą ir parkus.
Hotel Hansalinn is most conveniently situated in the heart of Pärnu and all the most interesting and evocative city sights are within a short walking distance.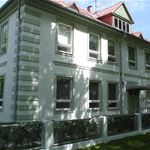 Ribere Apartment is located in the centre of Pärnu, 800 m from the Pärnu Bay beach. It offers self-catering accommodation with a fireplace and free Wi-Fi