Ribere Apartments
Address

: Esplanaadi 17, 80014 Parnu
show map
Location: Parnu
Apartment | Ribere Apartment is located in the centre of Pärnu, 800 m from the Pärnu Bay beach. It offers self-catering accommodation with a fireplace and free Wi-Fi
Ribere Apartments is 10 minutes walk from the beach. Ribere Apartment is located in the centre of Pärnu, 800 m from the Pärnu Bay beach. It offers self-catering accommodation with a fireplace and free Wi-Fi.
Facilities and services
Capacity

Number of floors: 2

3 room(s)
Compare "Ribere Apartments" with similar alternatives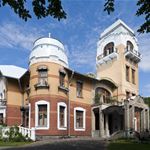 5***** Stars Hotel Ammende Villa in Parnu has 17 rooms to choose from. The main building has 5 suites and 8 de Luxe rooms, all complete with antique furniture and furnishings retaining the original Art Nouveau influence.
Hotel Hansalinn is most conveniently situated in the heart of Pärnu and all the most interesting and evocative city sights are within a short walking distance.
Koidulapark Hotel is in the former fortification area of the historical centre of Pärnu. The ancient fortifications were liquidated at the end of the 19th century and the territory was divided into plots.