Gutenbergs hotel
Address

: Doma laukums 1, LV-1050 Riga
show map
Location: Riga
Hotel | Keturių žvaigždučių viešbutis "Gutenbergs" įsikūręs Rygos senamiestyje stūksančiame renovuotame XIX a. pastate. Čia įrengti antikvariniais baldais apstatyti numeriai, kuriuos puošia puikios kokybės audiniai. Viešbutyje veikia nemokamas belaidis internetas.
"Gutenbergs" numeriuose rasite palydovinius kanalus rodančius plokščiaekranius televizorius, svetainių zonas su patogiais krėslais, mini barus ir šiuolaikiškus vonios kambarius su plaukų džiovintuvais bei higienos reikmenų rinkiniais.
Visą parą dirbančios registratūros personalas padės įsigyti bilietus į miesto teatrus bei muziejus, surengs ekskursijas po miestą, pasiūlys pasinaudoti bagažo saugykla ir užsakys pervežimo bei automobilių nuomos paslaugas.
Įvairūs savitarnos pusryčiai patiekiami stilingame viešbučio restorane, kuriame ruošiami Baltijos jūros regiono ir vokiški valgiai. Pasimėgauti gėrimais galėsite nuostabioje restorano terasoje, iš kurios matosi senamiestis.
Facilities and services
Capacity

Number of floors: 5

38 room(s)

51 bed(s)

Conference rooms: 1

Built in year 1550

Last renovated year 2016
Compare "Gutenbergs hotel" with similar alternatives
Four-star boutique Hotel Justus is located in the heart of the old town of Riga, literally a few steps away from the famous Dome cathedral, within the architectural area protected by UNESCO as a part of world heritage.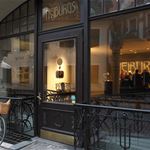 Neiburgs hotel is located in the very heart of Riga's Old Town in a majestic art nouveau building dating back to 1903, overlooking the Dome Square and the spires of the nearby churches. Cafés, shops and museums as well as the Opera house are a stone's throw away.
Elegant and cozy interior and high-class service creates a fabulous atmosphere for your perfect holidays or successful business trip.