Park Inn Kaunas
Address

: K. Donelaicio 27, LT-44240 Kaunas
show map
Location: Kaunas
Hotel | This Park Inn is located in Kaunas, 300 metres from Laisvės alėja. It offers spacious, air-conditioned rooms with a flat-screen with satellite channels and free Wi-Fi. Free private parking is available.
The rooms of the Park Inn Kaunas feature a classic interior design with Scandinavian influences. All include a safe, work desk and minibar. The private bathrooms have a shower and a hairdryer.

The hotel has a casino onsite as well as a spa and wellness centre with a solarium, sauna and Turkish bath, which is available for an additional surcharge. Guests can also work out in the fitness centre or visit the massage parlour.

The Diverso restaurant serves Mediterranean dishes. In the morning it offers a breakfast buffet. The Ginger Bar serves light snacks and beverages.

Thanks to its central location many of Kaunas's landmarks are within walking distance. St. Michael the Archangel Church is within 250 metres. The Devil's Museum is within a 10 minute walk. The Old Town is 1.2 km away.
Facilities and services
Capacity

Number of floors: 8

206 room(s)

Conference rooms: 8

AttributeSection.GroupTitle.Theme

General facilities

Built in year 1987

Last renovated year 2008

Eat & Drink on site

Transport Possibilities

Pervežimo iš oro uosto į viešbutį paslauga
Good to know
Check in (earliest)

Check out (latest)

Opening hours
Contact information
Phone number (booking)

Website
Compare "Park Inn Kaunas" with similar alternatives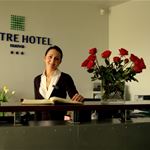 CENTRE HOTEL — tai trijų žvaigždučių viešbutis pačiame Kauno miesto centre. Buvęs Žaliakalnio viešbutis įsikūręs ramioje vietoje ant Žaliakalnio šlaito, visiškai šalia pagrindinės miesto arterijos — Savanorių pr.
NAUJAS keturių žvaigždučių viešbutis EUROPA ROYALE KAUNAS įsikūręs labai patogioje vietoje – pačioje Kauno šerdyje, apsuptyje miesto svečių lankomiausių vietų bei šalia pagrindinių verslo, prekybos, laisvalaikio ir pramogų centrų.
The Hotel Kaunas is not only a new and modern Hotel but it also has a convenient location and excellent staff. It is situated in the city's downtown - Laisvės avenue. Its location is ideal for those who come to Kaunas on business or for pleasure since its area is surrounded by cultural, commercial and financial objects and it takes just several minutes to reach the old town.