Tour to Jurmala
Address: Jurmala
Date: Pühapäev 16 dets 2018 - esmaspäev 31 dets 2018
Show map
Address: Jurmala

Optional Tour to Jurmala (duration: 3 hours including transfers & shopping)
Jurmala, a resort town possessing 150-year-old resort traditions, occupies approximately one-tenth part of the coastal line. Jurmala is the place for a city dweller tired of life to reacquire the feeling of being the Nature's child. Here fresh sea wind will fill people's lungs and make them dizzy with the smell of pines, the eyes will rest in the blue of the sea, the feet will sink in the soft golden sand…Now, after the 50-year-long isolation again various generations from various countries may enjoy the special gentle charm, curative waters and mud baths of Jurmala… Jurmala with its romantic wooden houses in art nouveau (Jugendstil), its spacious beaches, forests, and calmly flowing Lielupe river is especially attractive in the modern world of standards, for it has not lost its singularity.
Show more
Book now - choose start date and product
Hotell
Distance: 11,7 km
4 tärni hotell Jurmala Spa on kaasaegne kuurort ja konverentsikeskus, mis on vaid lühikese jalutuskäigu kaugusel rannast. Hotell pakub tasuta WiFi-ühendust avalikes kohtades ja tasuta parkimist. Hotelli spaa-ja tervisekeskus asub kahel korrusel ning seal pakutakse erinevaid massaaže ja veeteraapiaid. Tervisekeskuses on erinevate temperatuuridega basseinid, mullivann, 5 erinevat sauna ja solaarium.
Hotell
Distance: 11,5 km
The building reflects the tendencies of contemporary architecture and charmingly fits into the landscape of Jurmala. One can see from the hotel the sun rising over the river and hear the pines rustling in the seaside dunes.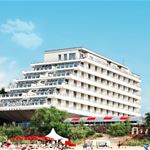 Hotell
Distance: 11,4 km
Nestled directly on the shore of the Baltic Sea, the 5-star Baltic Beach Hotel & SPA has a unique location in Jurmala amidst the dunes and lushly pine-trees. Offering direct access to the fully equipped private beach with catering service, it is ideally located in the heart of Jurmala within walking distance to main cultural and recreational institutions, railway station, restaurants, shops and other attractions.