Ventspils the Latvias bigest seaport where the Venta River join the sea. At the Ventspils Open-Air Museum of Maritime Fishing you can see fishermen's houses, fishing boats and tools. There is also a windmill and a narrow gauge train running in the territory of the museum. The boat "Hercogs Jekabs" will take you on a river cruise down to the sea. The way to Ventspils going through the wooden part of Latvia-Kurzeme.
Show more
Hotell
Distance: 193 meters
Neljatärnihotell Gutenbergs asub renoveeritud 19. sajandi hoones, Riia vanalinna südames. Toad on sisustatud antiikmööbli ja kvaliteetsete kangastega. Saadaval on tasuta WiFi-ühendus.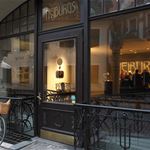 Hotell
Distance: 346 meters
Neiburgs hotel is located in the very heart of Riga's Old Town in a majestic art nouveau building dating back to 1903, overlooking the Dome Square and the spires of the nearby churches. Cafés, shops and museums as well as the Opera house are a stone's throw away.
Hotell
Distance: 326 meters
Four-star boutique Hotel Justus is located in the heart of the old town of Riga, literally a few steps away from the famous Dome cathedral, within the architectural area protected by UNESCO as a part of world heritage.