Jurmala is well-known for its natural treasures – the mild climate, beach, healthy air, curative mud and mineral water as well as the 20th century Art Nouveau wooden architecture and villas of rich people from different epochs always attract tourist attention.
Famous Dzintari Concert Hall and modern watching tower makes unforgettable memories. But for those who loves wildlife, nature trails can be included.
Show more
Hotell
Distance: 11,5 km
The building reflects the tendencies of contemporary architecture and charmingly fits into the landscape of Jurmala. One can see from the hotel the sun rising over the river and hear the pines rustling in the seaside dunes.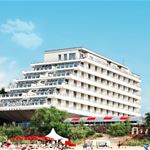 Hotell
Distance: 11,4 km
Nestled directly on the shore of the Baltic Sea, the 5-star Baltic Beach Hotel & SPA has a unique location in Jurmala amidst the dunes and lushly pine-trees. Offering direct access to the fully equipped private beach with catering service, it is ideally located in the heart of Jurmala within walking distance to main cultural and recreational institutions, railway station, restaurants, shops and other attractions.
Hotell
Distance: 11,7 km
4 tärni hotell Jurmala Spa on kaasaegne kuurort ja konverentsikeskus, mis on vaid lühikese jalutuskäigu kaugusel rannast. Hotell pakub tasuta WiFi-ühendust avalikes kohtades ja tasuta parkimist. Hotelli spaa-ja tervisekeskus asub kahel korrusel ning seal pakutakse erinevaid massaaže ja veeteraapiaid. Tervisekeskuses on erinevate temperatuuridega basseinid, mullivann, 5 erinevat sauna ja solaarium.