Riga, the capital of Latvia is an amazing place for tourism, wild weekends and everyday living. Often mentioned as "Paris of the North".
Riga the city of inspiration tree hours excursion including walking tour of Old Riga (the main tourist attractions-Dome Cathedral, St Peters Church, Blackheads Hose etc) and excursion by car throught the Art Nouveau area, soviet times Riga and visit of the leisure complex Lido. Probably the largest loghouse in Europe.
Show more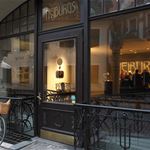 Hotell
Distance: 88 meters
Neiburgs hotel is located in the very heart of Riga's Old Town in a majestic art nouveau building dating back to 1903, overlooking the Dome Square and the spires of the nearby churches. Cafés, shops and museums as well as the Opera house are a stone's throw away.
Hotell
Distance: 194 meters
Elegant and cozy interior and high-class service creates a fabulous atmosphere for your perfect holidays or successful business trip.
Hotell
Distance: 84 meters
Neljatärnihotell Gutenbergs asub renoveeritud 19. sajandi hoones, Riia vanalinna südames. Toad on sisustatud antiikmööbli ja kvaliteetsete kangastega. Saadaval on tasuta WiFi-ühendus.