Hotel Vantis
Address

: Balasta dambis 78, LV-1048 Riga
show map
Location: Riga
Hotell | If you are looking for a quiet place to rest with family, to spend a romantic weekend, or to organize a conference, Vantis hotel be the right choice! The hotel is close to the river Daugava, on its left bank – in Ķīpsala with a wonderful view on the illuminated bridges over the Daugava and Old Riga, as well as the hotel park and the industrial territory of Riga port. You also have an exclusive river access to hotel with a yacht, cutter or boat. Hotel territory includes a safe car park.
Hotel offers 12 comfortable double rooms. The rooms are arranged according to scandinavian style and they meet the standards for modern hotel accomodation. Hotel offers also a conference hall for meetings, banquets and seminars for 40-50 participants.
Compare "Hotel Vantis" with similar alternatives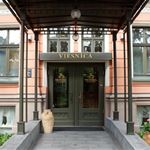 Welcome home is the slogan of our hotel and this is also how we work: we will do our best to make you – our guests – feel at home while staying with us. Thus the work of our servicing staff is discreet and inconspicuous but at the same time accommodating your wishes and precise in making them true.
Luksuslik 5-star Gallery Park Hotell asub Riia südalinnas, mis on UNESCO maailmapärandi nimistusse. Toad ja sviidid on kaunistatud kas antiikmööbliga 19. sajandi Prantsusmaalt, või moodsa ja kaasaegse mööbliga . Avarad toad on kõik konditsioneeriga ja suure vannitoaga. Lisaväärtust annavad luksuslikud ja mugavad lisatooted, nagu näiteks Thalgo hügieenivahendid ja Frette voodipesu, käterätid ja hommikumantlid. Kõikides tubades avaneb panoraamvaade Kronvalda Parki, Kunstimuuseumile, ja Riia boulevardile.
Neljatärnihotell Gutenbergs asub renoveeritud 19. sajandi hoones, Riia vanalinna südames. Toad on sisustatud antiikmööbli ja kvaliteetsete kangastega. Saadaval on tasuta WiFi-ühendus.