PK Riga Hotell
Address
: Pulkveža Brieža iela 11, LV-1010 Riga (
show map
)
Location: Riga
Hotell | Neljatärnihotell PK Riga asub Riia juugendstiilis linnaosas, 10-minutilise jalutuskäigu kaugusel ajaloolisest vanalinnast. Hotellis on spaakeskus ning klassikalise kujunduse ja tasuta WiFi-ühendusega toad.
Hotelli PK Riga kõikides valgusküllastes tubades on konditsioneer ja hubane sisustus. Igas toas on ka minibaar, seif ning moodne vannituba koos fööniga. Mõnedes tubades on istumisnurk.

Hommikusööki serveeritakse hotelli rahvusvahelise köögiga restoranis Look.

Ööpäev läbi avatud vastuvõtu personal võib korraldada lennujaamatransporti ja linnaekskursioone.
Facilities and services
Capacity

Number of floors: 7

88 room(s)

Conference rooms: 1

General facilities

Sauna

Jacuzzi

Massage

Solarium

Eat & Drink on site

Parking

Hotel parking

Pay parking

Special requirements

Allergy adjusted

Child friendly

Physically disabled facilities

Pets allowed

Transport Possibilities

Rent a car desk

Limousine service

Airport transfer
Contact information
Phone number (booking)

Website
Compare "PK Riga Hotell" with similar alternatives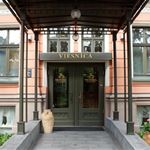 Welcome home is the slogan of our hotel and this is also how we work: we will do our best to make you – our guests – feel at home while staying with us. Thus the work of our servicing staff is discreet and inconspicuous but at the same time accommodating your wishes and precise in making them true.
Albert Hotell paikneb vaikses kohas Läti pealinna Riia keskel. Hotell pakineb ka arhitektuuri poolest eksklusiivses juugendstiiliga rajoonis, kus lähedal on kuulus ja ilus Alberta tänav.
Luksuslik 5-star Gallery Park Hotell asub Riia südalinnas, mis on UNESCO maailmapärandi nimistusse. Toad ja sviidid on kaunistatud kas antiikmööbliga 19. sajandi Prantsusmaalt, või moodsa ja kaasaegse mööbliga . Avarad toad on kõik konditsioneeriga ja suure vannitoaga. Lisaväärtust annavad luksuslikud ja mugavad lisatooted, nagu näiteks Thalgo hügieenivahendid ja Frette voodipesu, käterätid ja hommikumantlid. Kõikides tubades avaneb panoraamvaade Kronvalda Parki, Kunstimuuseumile, ja Riia boulevardile.