Nesė Pramogų Bankas Guest House
Address

: A. Stulginskio g. 8, 01116 Vilnius
show map
Location: Vilnius
Hotell | Nese Pramogų Bankas on 4-tärninga külalistemaja Vilniuse kesklinnas, vaid mõne sammu kaugusel Gediminas'e avenüüst. Seal on tasuta traadita internetiühendus ja kasiino.
Kõikides tubades on minibaar, televiisor ja vannituba.

Nese Pramogu Bankas'e külalistemaja 2 restorani pakuvad rahvusvahelist ja Gruusia kööki. Lisaks on kohapeal ööklubi.
Facilities and services
Capacity

General facilities

Eat & Drink on site

Parking

Special requirements
Good to know
Check in (earliest)

Check out (latest)

Opening hours
Contact information
Phone number (booking)

Website
Compare "Nesė Pramogų Bankas Guest House" with similar alternatives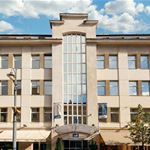 4 star Neringa hotel is situated in the middle of the Vilnius main city's avenue - Gedimino Ave. Many government and business institutions, shops and shopping centers, restaurants, museums, well-known historical landmarks are within walking distance of the hotel Neringa.
A cozy, four-star, family-run boutique hotel at the heart of Vilnius' pretty Old Town, Artis Centrum Hotels will help you relax – just as if you are at home. Whether you have just arrived from a flight, an inspirational stroll through the narrow cobblestone streets or an intensive business meeting, the spacious classical-style rooms with all modern facilities are the perfect retreat.
Hotell Amberton asub Vilniuse kesklinnas, pakkudes otsest vaadet katedraalile ja Gediminase lossile. Internet on saadaval tasuta. Avarad toad on varustatud minibaari, kirjutuslaua ja istumisnurgaga.