Gutenbergs hotel
Address

: Doma laukums 1, LV-1050 Riga
show map
Location: Riga
Hotell | Neljatärnihotell Gutenbergs asub renoveeritud 19. sajandi hoones, Riia vanalinna südames. Toad on sisustatud antiikmööbli ja kvaliteetsete kangastega. Saadaval on tasuta WiFi-ühendus.
Hotelli Gutenbergs kõikides tubades on lameekraaniga televiisor, satelliittelevisioon ja mugavate tugitoolidega istumisnurk. Igas toas on minibaar ning moodne vannituba, kus on föön ja tualetitarbed.
Vastuvõtu personal on ööpäevaringselt külaliste käsutuses ning võib reserveerida pileteid teatritesse ja muuseumidesse, korraldada linnaekskursioone ja aidata pakihoiuga. Saadaval on ka transporditeenus ja autorent.
Mitmekesist hommikusööki Rootsi lauas serveeritakse hotelli stiilses restoranis, mis pakub Baltimaade ja Saksa köögi roogasid. Külalised saavad jooke nautida kaunis terrassirestoranis, kust avaneb vaade vanalinnale.
Facilities and services
Capacity

Number of floors: 5

38 room(s)

51 bed(s)

Conference rooms: 1

Built in year 1550

Last renovated year 2016
Compare "Gutenbergs hotel" with similar alternatives
Four-star boutique Hotel Justus is located in the heart of the old town of Riga, literally a few steps away from the famous Dome cathedral, within the architectural area protected by UNESCO as a part of world heritage.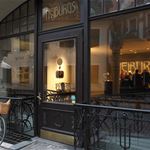 Neiburgs hotel is located in the very heart of Riga's Old Town in a majestic art nouveau building dating back to 1903, overlooking the Dome Square and the spires of the nearby churches. Cafés, shops and museums as well as the Opera house are a stone's throw away.
Elegant and cozy interior and high-class service creates a fabulous atmosphere for your perfect holidays or successful business trip.