Balta Puce Hotell
Address

: Pilsonu str. 7/9, LV 2015 Jurmala
show map
Location: Majori
Hotell | Balta Puce hotell on unikaalne ning ta asub kuurorti kõige aktiivsemas osas, kuid sellele vaatamata on ta võimeline pakkuma vaikust, rahu, kodust solidaarsust ja hubasust.
Hoone on ehitatud puidust ja on umbes 100 aastat vana. Balta Pruce asub päikeselises, looduslikus eraviisiliselt piiratud territooriumil, mille taha jäävad kuulsad Jūrmala liivamäed.
Facilities and services
Capacity

Number of floors: 3

11 room(s)

Conference rooms: 1

AttributeSection.GroupTitle.Theme

General facilities

Bicycle rental

Gym

Children's playground

Spa

Built in year 1914

Last renovated year 2007

Eat & Drink on site

Parking

Parking

Hotel parking

Parking secure

Special requirements

Allergy adjusted

Child friendly

Pets allowed

Baby sitting services

Transport Possibilities

Rent a car desk

Limousine service

Airport transfer
Good to know
Check in (earliest)

Check out (latest)

Opening hours
Contact information
Phone number (booking)

Website
Compare "Balta Puce Hotell" with similar alternatives
4 tärni hotell Jurmala Spa on kaasaegne kuurort ja konverentsikeskus, mis on vaid lühikese jalutuskäigu kaugusel rannast. Hotell pakub tasuta WiFi-ühendust avalikes kohtades ja tasuta parkimist. Hotelli spaa-ja tervisekeskus asub kahel korrusel ning seal pakutakse erinevaid massaaže ja veeteraapiaid. Tervisekeskuses on erinevate temperatuuridega basseinid, mullivann, 5 erinevat sauna ja solaarium.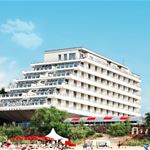 Nestled directly on the shore of the Baltic Sea, the 5-star Baltic Beach Hotel & SPA has a unique location in Jurmala amidst the dunes and lushly pine-trees. Offering direct access to the fully equipped private beach with catering service, it is ideally located in the heart of Jurmala within walking distance to main cultural and recreational institutions, railway station, restaurants, shops and other attractions.
Eiropa Deluxe is located on Jomas iela 76, 150 meters from the main Eiropa Hotel's building.