Royal Square Hotel & Suites
Address

: Kalku str. 3a, LV 1050 Riga
show map
Location: Baltic region
Hotell | Elegant and cozy interior and high-class service creates a fabulous atmosphere for your perfect holidays or successful business trip.
In the very centre of the Old City, among the famous pieces of architecture and entertainment places, the Royal Square Hotel & Suites is welcoming its guests. The windows of the hotel provide a wonderful view of the picturesque narrow streets, City-hall and the new building of the City Council.
The Royal Square Hotel & Suites has been built on the remnants of the ancient remises of the 16th century town and presents the union of rich culturally heritage and the newest modern technologies. 
Facilities and services
Capacity

Number of floors: 5

30 room(s)

30 bed(s)

Conference rooms: 1

General facilities

Eat & Drink on site

Special requirements

Transport Possibilities
Good to know
Check in (earliest)

Check out (latest)
Contact information
Contact person email

Website
Compare "Royal Square Hotel & Suites" with similar alternatives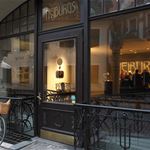 Neiburgs hotel is located in the very heart of Riga's Old Town in a majestic art nouveau building dating back to 1903, overlooking the Dome Square and the spires of the nearby churches. Cafés, shops and museums as well as the Opera house are a stone's throw away.
Neljatärnihotell Radi Un Draugi asub Riia vanalinna südames, 5-minutilise jalutuskäigu kaugusel ajaloolisest Toomkirikust. Hotelli avarates tubades on tasuta WiFi-ühendus, lameekraaniga televiisor ja külmkapp. Külalistel on võimalus tasuta tahvelarvuteid Galaxy Tab II kasutada.
We are looking forward to welcome You at "St. Peter's Boutique Hotel" - tiny and cosy hotel, located in a beautiful building, that belongs to 15th century, in the heart of Old Riga. One of the most popular sights of Riga – St. Peter's church is only few steps away from "St. Peter's Boutique Hotel". All stunning details of the building, such as old brick walls, wooden crossbeams and fireplace were gently retained during the renovation.