Boutique Hotel & Restaurant MaMa
Address

: Tirgoņu iela 22, LV-2015 Jurmala
show map
Location: Baltic region
Hotell | The building reflects the tendencies of contemporary architecture and charmingly fits into the landscape of Jurmala. One can see from the hotel the sun rising over the river and hear the pines rustling in the seaside dunes.
The interior can be characterised as unusual – touched by an elegant irony and contemporary lifestyle – where the dreams of happy human beings are enacted in the interplay of different forms of design.
Contemporary lifestyle and unusual interior made in elegant forms of design. The bathrooms have heated floors and a warm towel dryer. When you feel tired from the sun, wind or – overwhelmingly – from happiness, you can help yourself by fixing a drink or snacks at the kitchen equipped with modern appliances and, hardly hearing the quiet humming of the air conditioners, abandon yourself to daydreaming. Here you can choose – either to connect to the world over the internet, or to enter into a quest for a fundamental answer by contemplating a flower over the bed.
Facilities and services
Capacity

Number of floors: 3

7 room(s)

9 bed(s)

Conference rooms: 1

Built in year 2008

Last renovated year 2008

Parking

Special requirements
Good to know
Check in (earliest)

Check out (latest)
Contact information
Contact person email

Website
Compare "Boutique Hotel & Restaurant MaMa" with similar alternatives
4 tärni hotell Jurmala Spa on kaasaegne kuurort ja konverentsikeskus, mis on vaid lühikese jalutuskäigu kaugusel rannast. Hotell pakub tasuta WiFi-ühendust avalikes kohtades ja tasuta parkimist. Hotelli spaa-ja tervisekeskus asub kahel korrusel ning seal pakutakse erinevaid massaaže ja veeteraapiaid. Tervisekeskuses on erinevate temperatuuridega basseinid, mullivann, 5 erinevat sauna ja solaarium.
Balta Puce hotell on unikaalne ning ta asub kuurorti kõige aktiivsemas osas, kuid sellele vaatamata on ta võimeline pakkuma vaikust, rahu, kodust solidaarsust ja hubasust.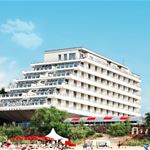 Nestled directly on the shore of the Baltic Sea, the 5-star Baltic Beach Hotel & SPA has a unique location in Jurmala amidst the dunes and lushly pine-trees. Offering direct access to the fully equipped private beach with catering service, it is ideally located in the heart of Jurmala within walking distance to main cultural and recreational institutions, railway station, restaurants, shops and other attractions.