Walking tour - Jurmala (1.5 hours)
Show map
Jurmala – the largest resort city in the Baltic States is well-known for its natural treasures – the mild climate, beach, healthy air, curative mud and mineral water as well as the 20th century Art Nouveau wooden architecture and villas of rich people from different epochs always attract tourist attention.
Famous Dzintari Concert Hall and modern watching tower makes unforgettable memories. But for those who loves wildlife, nature trails can be included.
Show more
Hotel
Distance: 11.7 km
4-star hotel Jurmala SPA is a modern Spa resort and conference centre. It is located just 25 kilometres from Riga in one of Latvia's oldest and most picturesque resorts - Jūrmala and is just a couple of hundred metres from the golden beaches on the shores of the Gulf of Riga. Situated on a pedestrian only street, the Hotel Jurmala SPA provides 190 comfortable and spacious rooms with accommodation for 380 beds. The hotel has been decorated using only natural materials – wood and stone - to create a restful and relaxing atmosphere.
Hotel
Distance: 11.4 km
The building reflects the tendencies of contemporary architecture and charmingly fits into the landscape of Jurmala. One can see from the hotel the sun rising over the river and hear the pines rustling in the seaside dunes.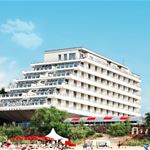 Hotel
Distance: 11.4 km
Nestled directly on the shore of the Baltic Sea, the 5-star Baltic Beach Hotel & SPA has a unique location in Jurmala amidst the dunes and lushly pine-trees. Offering direct access to the fully equipped private beach with catering service, it is ideally located in the heart of Jurmala within walking distance to main cultural and recreational institutions, railway station, restaurants, shops and other attractions.