Nese Pramogu Bankas
Address

: A. Stulginskio g. 8, 01116 Vilnius
show map
Location: Vilnius
Hotel | Nesė Pramogų Bankas is housed in a historic building in the centre of Vilnius, only a few steps from Gediminas Avenue. It offers free Wi-Fi and has a casino.
All rooms have a minibar, a TV, and a bathroom. Free monitored parking is provided.

The White House restaurant serves European cuisine. There is also a nightclub on site.
Facilities and services
Capacity

General facilities

Eat & Drink on site

Parking

Special requirements
Good to know
Check in (earliest)

Check out (latest)

Opening hours
Contact information
Phone number (booking)

Website
Compare "Nese Pramogu Bankas" with similar alternatives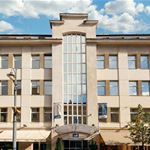 4 star Neringa hotel is situated in the middle of the Vilnius main city's avenue - Gedimino Ave. Many government and business institutions, shops and shopping centers, restaurants, museums, well-known historical landmarks are within walking distance of the hotel Neringa.
A cozy, four-star, family-run boutique hotel at the heart of Vilnius' pretty Old Town, Artis Centrum Hotels will help you relax – just as if you are at home. Whether you have just arrived from a flight, an inspirational stroll through the narrow cobblestone streets or an intensive business meeting, the spacious classical-style rooms with all modern facilities are the perfect retreat.
Located in the very center of Vilnius, across Cathedral Square with exclusive views to Cathedral and Historic Gediminas Castle.