Gutenbergs hotel
Address

: Doma laukums 1, LV-1050 Riga
show map
Location: Riga
Hotel | Boutique-style hotel in the center of the Old Town.
Famous for its gorgeous interior, romantic and historical style, and kind personnel.
38 cozy rooms of various design. Every convenience – a bath or a shower, TV, WIFI, a phone, a mini-bar, a safe, heated floors in the bathroom and other extras. Breakfast included.
The buildings of the hotel were built in the XVI and XIX centuries for needs of a printing-house. Since then Johannes Gutenberg – the well-known patrician of Mainz, inventor of the polygraph in 1550 – is the patron of these buildings; his bas-relief bedecks the gorgeous facade of the buildings. In 2001, when the hotel was opened, Johannes Gutenbergs kindly agreed to be also the patron of the hotel.
Accommodating at the Gutenbergs you are definitely being in Riga! Everything here – the paintings, engravings, antique fancy articles, old books in the guest rooms and the corridors – is like a story about the history of Riga. In the 1st floor's hall – beautiful copies of the famous Gutenberg Bible and the ancient times' printing engravings, books; in the 2nd floor's hall – landscapes from 17th century Latvia and Riga, and on the 3rd floor – original paintings of Latvian painters and a portrait-story about Latvian intelligentsia.
Facilities and services
Capacity

Number of floors: 5

38 room(s)

51 bed(s)

Conference rooms: 1

Built in year 1550

Last renovated year 2016
Compare "Gutenbergs hotel" with similar alternatives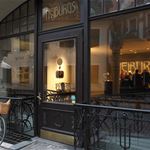 Neiburgs hotel is located in the very heart of Riga's Old Town in a majestic art nouveau building dating back to 1903, overlooking the Dome Square and the spires of the nearby churches. Cafés, shops and museums as well as the Opera house are a stone's throw away.
Elegant and cozy interior and high-class service creates a fabulous atmosphere for your perfect holidays or successful business trip.
We are looking forward to welcome You at "St. Peter's Boutique Hotel" - tiny and cosy hotel, located in a beautiful building, that belongs to 15th century, in the heart of Old Riga. One of the most popular sights of Riga – St. Peter's church is only few steps away from "St. Peter's Boutique Hotel". All stunning details of the building, such as old brick walls, wooden crossbeams and fireplace were gently retained during the renovation.