Balta Puce hotel
Address

: Pilsonu str. 7/9, LV 2015 Jurmala
show map
Location: Majori
Hotel | Balta Puce hotel is unique with being located in the busiest region of resort town Jurmala, it offers silence, peace, sense of domesticity and cosiness! The building is built from wood and it has history of 100 years. The hotel is located in a sunny, embosomed by pines, privately bounded territory just behind Jūrmala sand-hills.
Jurmala Hotel "Balta Puce" (White Owl) offers 11 comfortable and cosy double-bedded rooms with showers or bath, hairdryer, phone, wireless internet access, safe, TV, as well as the possibility for private parking-place. Both the most popular SPA centres in Jūrmala and renowned water amusement park "Livu akvaparks" can be named as hotel's collaboration partners.
There is a wide choice of food and drinks for all tastes in the cheerful restaurant! Working hours of the restaurant from 10:30 to 01:00.
Open roof terrace – Summer garden – restaurant that we call "White owl's nest" – it means a meal outside where the air smells as sea, amber, pine resin and, of course, well baked juicy steak!
Here is private attitude to each client and fine service staff with experience in most prestige hotels of Rīga and Jūrmala will take care of your feeling of comfort for twenty-four hours!
We invite You and wait in the hotel "White owl". See You soon!
Facilities and services
Capacity

Number of floors: 3

11 room(s)

Conference rooms: 1

AttributeSection.GroupTitle.Theme

General facilities

Bicycle rental

Gym

Children's playground

Spa

Built in year 1914

Last renovated year 2007

Eat & Drink on site

Parking

Parking

Hotel parking

Parking secure

Special requirements

Allergy adjusted

Child friendly

Pets allowed

Baby sitting services

Transport Possibilities

Rent a car desk

Limousine service

Airport transfer
Good to know
Check in (earliest)

Check out (latest)

Opening hours
Contact information
Phone number (booking)

Website
Compare "Balta Puce hotel" with similar alternatives
4-star hotel Jurmala SPA is a modern Spa resort and conference centre. It is located just 25 kilometres from Riga in one of Latvia's oldest and most picturesque resorts - Jūrmala and is just a couple of hundred metres from the golden beaches on the shores of the Gulf of Riga. Situated on a pedestrian only street, the Hotel Jurmala SPA provides 190 comfortable and spacious rooms with accommodation for 380 beds. The hotel has been decorated using only natural materials – wood and stone - to create a restful and relaxing atmosphere.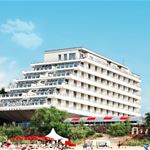 Nestled directly on the shore of the Baltic Sea, the 5-star Baltic Beach Hotel & SPA has a unique location in Jurmala amidst the dunes and lushly pine-trees. Offering direct access to the fully equipped private beach with catering service, it is ideally located in the heart of Jurmala within walking distance to main cultural and recreational institutions, railway station, restaurants, shops and other attractions.
Eiropa Deluxe is located on Jomas iela 76, 150 meters from the main Eiropa Hotel's building.